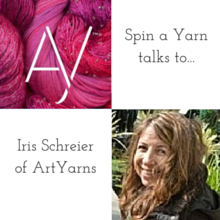 Our long-awaited delivery of ArtYarns skeins from the US has now arrived! Opening the box is always like opening a treasure chest full of silky and soft yarn, hand painted in jewel tones, sparkling with sequins and murano glass beads.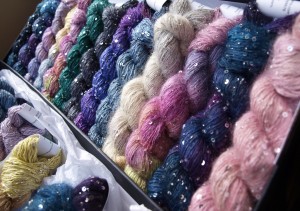 Who are ArtYarns?
The company is the brainchild of designer and author Iris Schreier, who started the company in 2002.
We were lucky enough to be able to ask Iris some questions recently – and her answers are fascinating.
Spin A Yarn: Where did the inspiration to start ArtYarns come from?
Iris: I was working on my first book Exquisite Little Knits, and I couldn't find certain yarns that I wanted to knit with, so I created them myself. Examples: a lightweight silk that would be perfect for scarf designs without being too heavy knitted up—this became Regal Silk; a hand-dyed cashmere that was carefully dyed in sophisticated colors—this became Artyarns Cashmere 5; A beaded yarn that would not have any synthetic in it—this became Beaded Silk Light. Stores because interested in these yarns I developed, and Artyarns was born.
Spin A Yarn: What is your favourite source of inspiration for the beautiful hand-painted colourways?
Iris: I mostly approach color ways as a designer—I think I am inspired to design certain pieces and develop colors that will work with my designs.  Our latest collection of Cosmic Colors inspired by the randomness of the constellations, helped me develop one of my favorite new pieces the Swirl Tee, which needed a fun, bright, multicolored yarn that would not pool and interfere with the pattern.

Spin A Yarn: Our favourite ArtYarn blends are Beaded Silk Sequins Light and Beaded Mohair & Sequins, do you have any favourite patterns which you think showcase these yarns particularly well?
Iris: Both these yarns are embellished and knit up like lovely jewelry.  We have put huge collections of patterns free on the yarn label, mostly 1-skein projects.  Look at the Beaded Silk & Sequins Light Collection of 10 patterns, free on the Beaded Silk & Sequins Light yarn label—I love the Silk Bouquet Scarf.  Also refer to the Beaded Mohair & Sequins Collection, free on the Beaded Mohair & Sequins yarn label—this contains 6 lovely patterns, including the Raspberry Stitch Mini Shawl designed by a very talented designer in South Korea.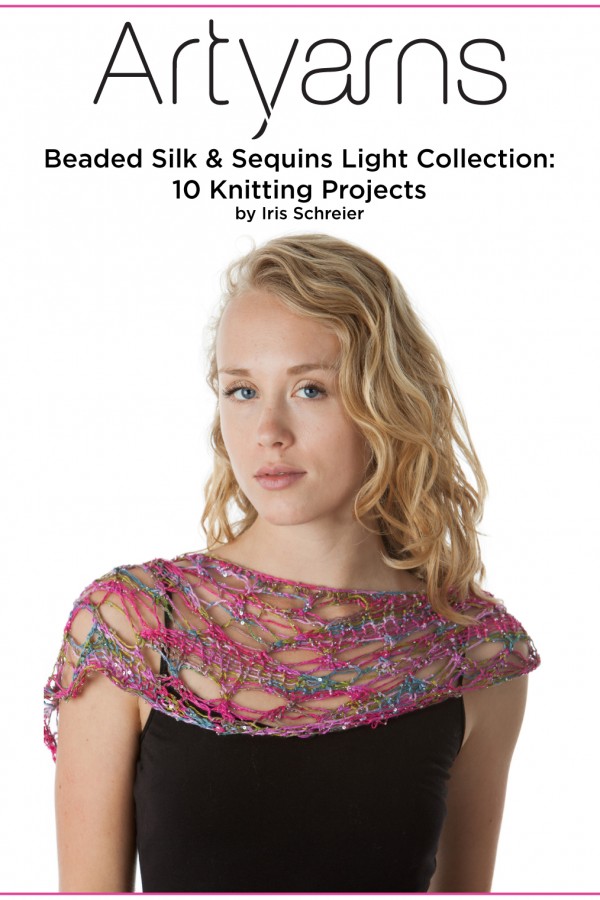 Spin A Yarn: How long does it take to produce a batch of hand-painted yarn?
Iris: We have a group of dyers working all day every work day, and we can produce several hundred skeins per week.  Some colors are more complicated than others and take longer.  We have a video of how we actually do the dyeing of certain multis – please click here to watch the delicate process by which the skeins are hand-painted: Shade 501 Hand-Dyeing Process.
Spin A Yarn: We're always impressed by your dedication to sharing your work and helpful hints on social media – what do you most enjoy about relating to other 'yarn addicts' online?
Iris: I love testing yarn colors by posting them and getting reactions, and also the encouragement of my peers when I show designs in progress.  It helps me focus on those projects that will be most appealing, at the same time including our social media fans in the process of our development, what we produce and what we design. Nothing is more appealing than seeing others' photos of what they have created using my yarns and designs.  Therefore, I constantly run knitalongs, where we knit as a group.  You can find out about these on my Ravelry Knitalongs group here: ArtYarns Knitalongs
You can reach Iris through Facebook, Ravelry or Instagram. She also has a Craftsy class in Modular Knitting, click here for a the link to sign up and receive $20 off coupon
Thank you for taking the time to talk to us, Iris!
You can find her yarns on our website here: ArtYarns available at Spin A Yarn, or pop into the shop and ask Joyce to show you the 'treasure chest' of skeins! We can help you find suitable patterns and provide you with the beautiful free patterns which come with the yarn when you buy it.