Our Autumn Workshops are here!
We're thrilled to launch a small selection of workshops with some of our most popular teachers. There are a very limited number of spaces available on each one, so please call 01626 836203 to book (we will be keeping a waiting list for anyone who doesn't get a place though).
All these workshops cost £59. In the event of government guidelines changing which means we can no longer hold the workshop, you will be refunded in full.
Click here to read our payment/refunds policy for this season.
You can read about the measures we'll be taking to keep these workshops safe for customers, staff and teachers on our blog here: our Covid Safe Workshop Measures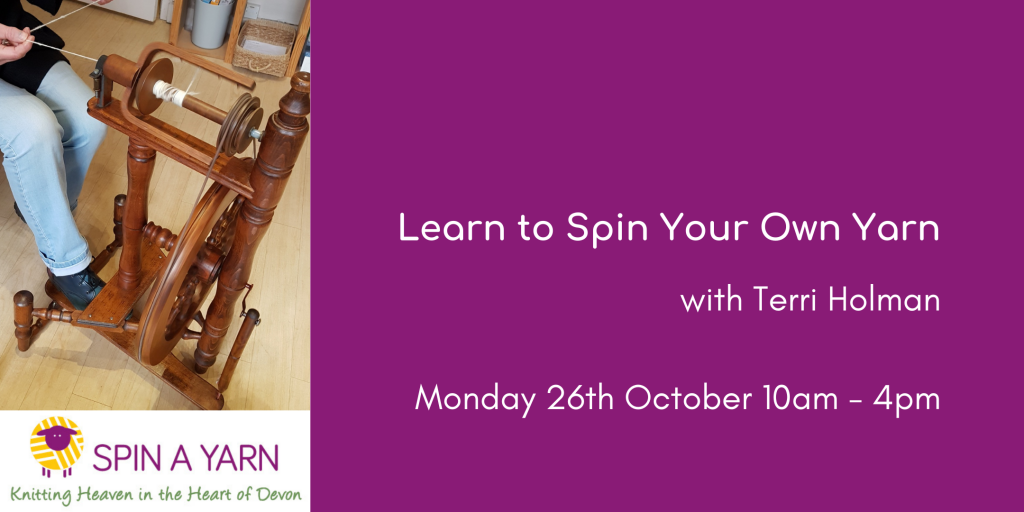 *FULLY BOOKED – but call 01626 836203 and we can add you to the waiting list*
Join us for a workshop from expert and enthusiastic local spinner and teacher Terri, who has her own flock of Jacob sheep.
The day will introduce you to the basics of fibre preparation, spinning and plying on a drop spindle and a spinning wheel.
In the morning you will be preparing the fleece for spinning using hand carders and then looking at the basic art of spinning using a drop spindle.
After lunch you will apply this knowledge to the spinning wheel and hopefully produce a skein of plied yarn!
Suitable for complete beginners.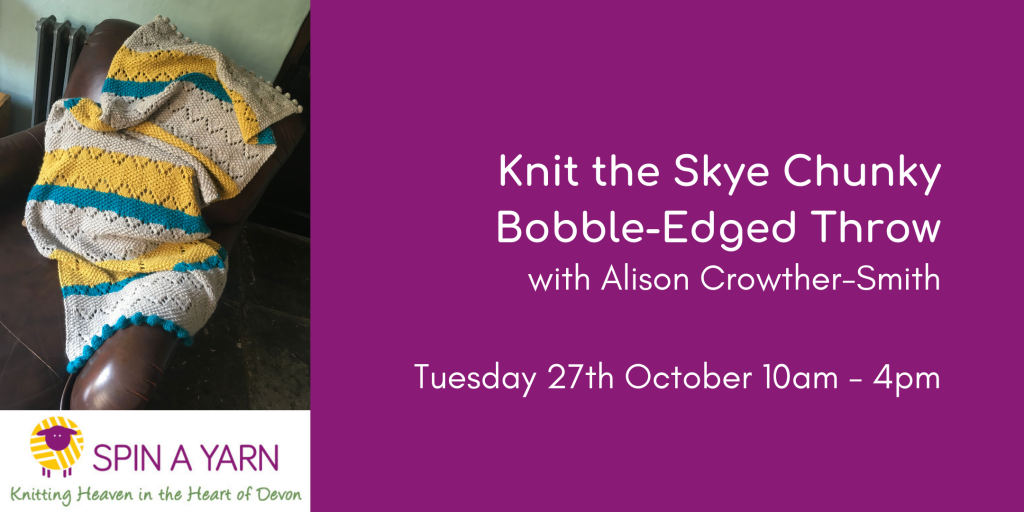 *FULLY BOOKED – but call 01626 836203 and we can add you to the waiting list*
An opportunity for you to learn how to knit the Skye Throw which was part of Alison's 2018 Knit Camp Collection.
By combining simple lace and texture, you can create a chunky throw with a neat bobble-edge. This can be easily adapted to make it smaller or bigger. The stitches were also used to create a Skye Evening Wrap which is beaded. You can either knit it in one solid shade, or choose several shades for a colourblock effect.
Alison will also talk about this pattern, and how to knit this stitch in the round but the teaching on this day is focused on the chunky throw. Note, however, that you can substitute aran or DK yarn if you bring the appropriate needles. All the stitches and the special bobble cast-off will the taught in full.
Suitable for: a reasonably confident knitter who has mastered the basics and wants to learn more. Whilst not suitable for complete beginners, it is fairly easy so will be good both for those with a little less confidence, and advanced knitters who will enjoy a fast and straightforward project.
For this workshop you can either choose your own Chunky-weight yarns (we stock a selection), or we can pre-order WYS Re:treat which is a gorgeous yarn with a roving spin (similar to Rowan Cocoon) and a soft twist that glides off the needles. Please pick your shade from the link here, you will need 7 balls, and we will have it available to pay for and collect on the day.
West Yorkshire Spinners Re:Treat Chunky Roving – view all shades here.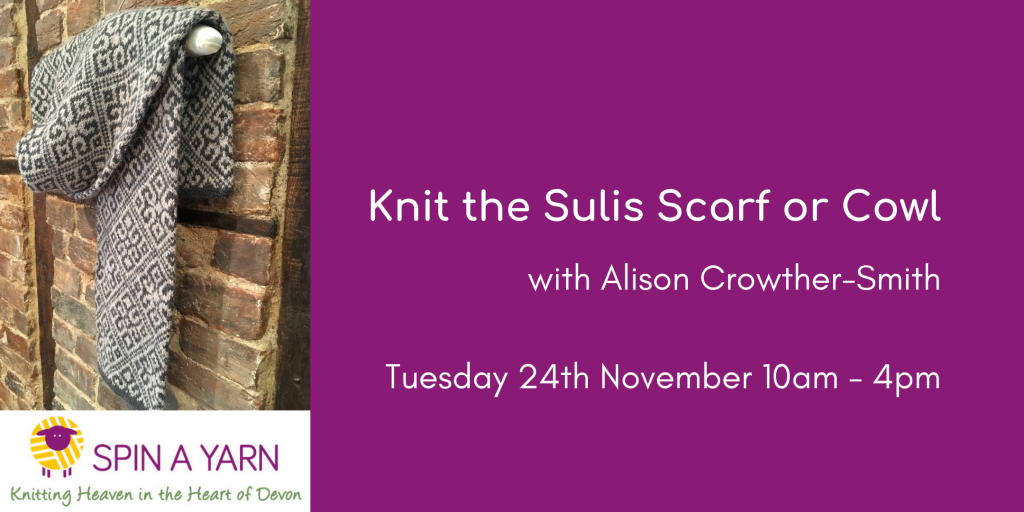 *FULLY BOOKED – but call 01626 836203 and we can add you to the waiting list*
Learn (or perfect) your Fairisle skills on this workshop which is dedicated to teaching you to knit Alison's brand-new cowl, and along the way, perfect Fairisle in the round, with yarns held in both hands for immaculate, fast, flat Fairisle, perfect tension, and no tangles.
The course offers you two pattern options: a cowl that is lined with mirror-image Fairisle, or a Fairisle cowl with a plain stocking stitch lining and this latter option is the version Alison will be teaching you on the day.
The course will cover: knitting Fairisle in the round with the option to be taught the 2-handed technique; chart mastery; the construction of the cowl which is seam-free (no sewing!); perfect Fairisle finishing off.
Suitable for: a reasonably confident knitter, who is keen to master or refresh perfect Fairisle. You do not need to have knitted Fairisle before or knitted in the round, but this is a moderately complex chart.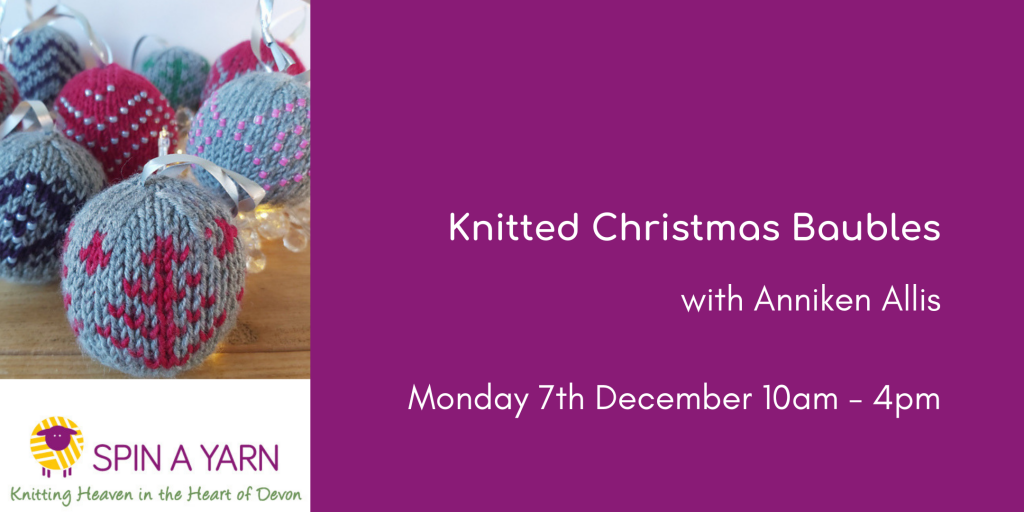 ONE SPACE LEFT
This workshop will teach a variety of techniques while creating fun Christmas themed baubles – perfect decorations for your tree or home this year.
Techniques include: knitting in the round on circular needles using the magic loop technique, fair isle/stranded colour work and adding beads using the crochet hook technique.
There will be a choice of patterns to knit during the class. They will include fair isle/stranded colour work patterns, beaded patterns and stripes.
Skills needed: Knit, cast on and cast off.
Payments
When we take bookings, we won't be taking the full payment of £59. Instead, we'll be taking a £30 deposit at the point of booking, with the remaining £29 to be paid a week before the workshop.
Refunds
Please let us know if you need to cancel. Providing you notify us up to 48h before the start of the workshop, we will refund you in full. After that point, we reserve the right to keep the £30 deposit if we are unable to find someone to fill your place on the workshop. In the event that we have to fully cancel the workshop due to changing covid guidelines, we will refund all attendees.
Food
Please bring your own lunch – there are many lovely places in Bovey Tracey which sell sandwiches and snacks if you prefer to buy one. We will serve drinks and biscuits throughout the day too.
Knit Clubs:
Our free Knit Clubs take place on the last Wednesday of each month. To adhere to Covid guidelines we are limiting spaces to 5 people, so if you'd like to attend please call on 01626 836203. Face coverings must be worn – do bring your own mask. Please do not attend if you are experiencing any Covid 19 symptoms.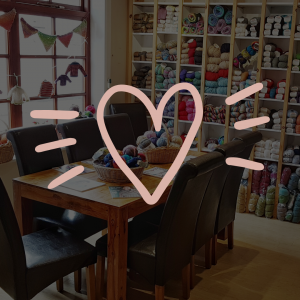 Workshop Testimonials
"I just wanted to thank you very much for the wonderful workshop yesterday. You have a great space and it was lovely to have a peaceful day just crocheting. Avril was brilliant as were the other interesting and talented ladies on the course.  The endless supply of tea went down well!"
"Thank you for a really memorable day…I enjoyed it so much and learnt more than I dared to hope, largely because of Claire's reassuring, patient approach."
"Just attended the second part of the 2 day felting workshop. It was brilliant and I am really pleased with the felting piece which I made. I learnt lots and had a couple of very pleasant days. Even if you are not doing a workshop the shop is well worth a visit as it is packed with lots of very interesting yarns and fibres. Thank you everyone!!"