Alison is well known and loved by many of our customers, but for those new to her designs and workshops, we thought we'd share some information about her inspirations, design process and some of her latest workshops.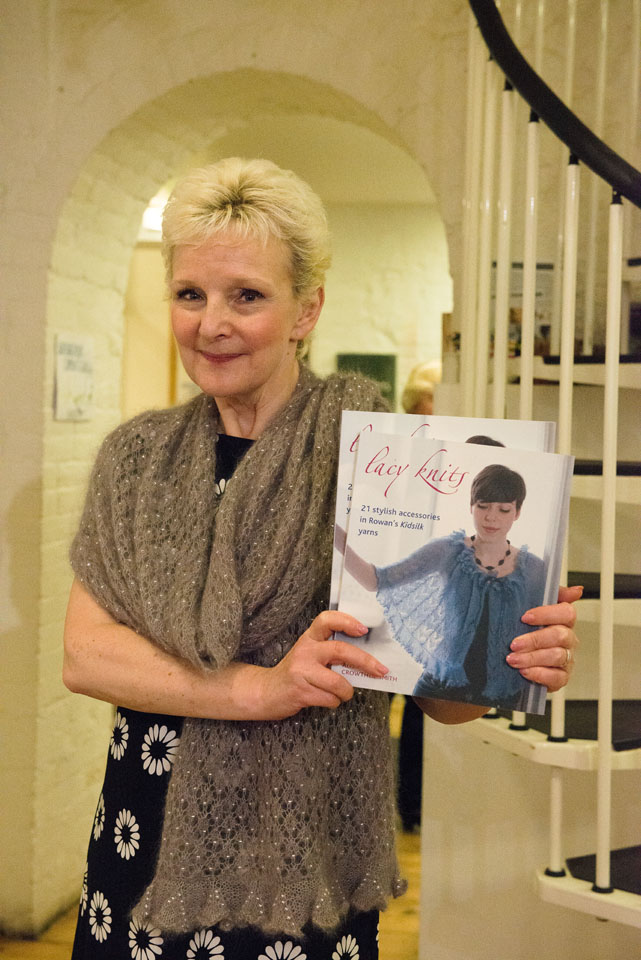 Having previously worked for Rowan Yarns as a Design Consultant, Joyce met Alison through the Rowan Rep at the time back in 2008. A passionate and committed knitting teacher, she has taught regular workshops at Spin A Yarn, with her wonderful moebius cowl workshops often selling out within days!
(What's a moebius cowl you ask? It uses a specially adapted cast-on to knit a continuous loop cowl with one half twist – which sits beautifully and shows off both sides of the knitting.)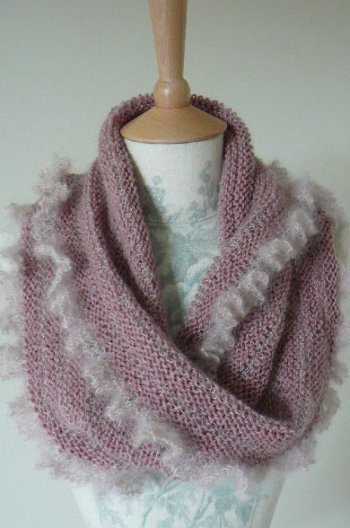 Her knitting focuses on detailed, often delicate designs with the emphasis on accessories and the occasional foray into home-ware knitting such as cushion covers and wonderfully snuggly throws.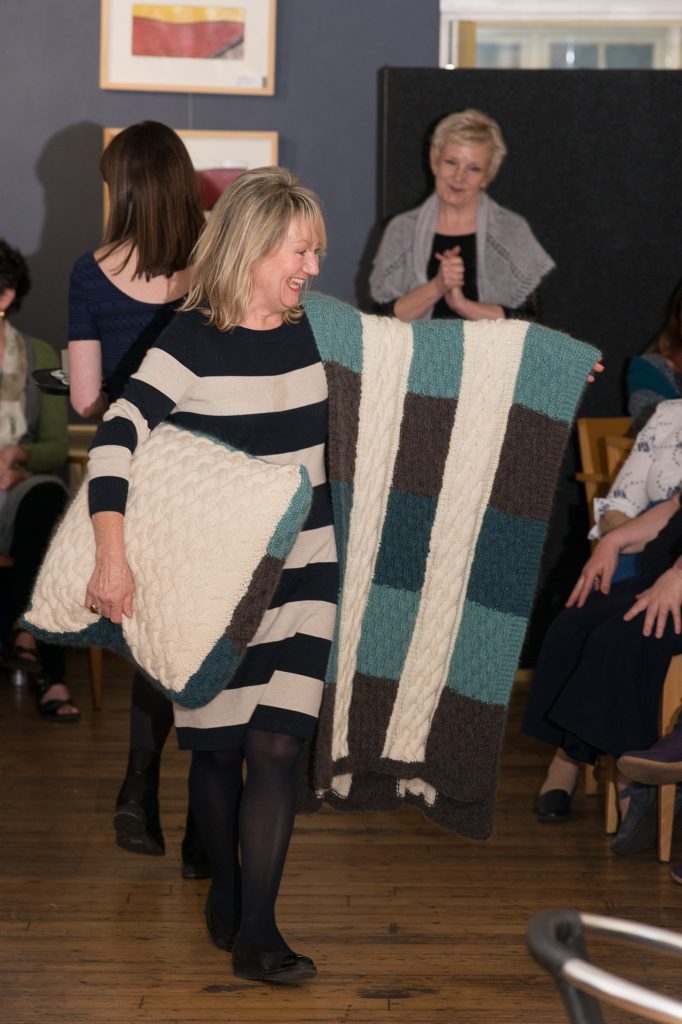 She is perhaps best known for a career-long love affair with one of our favourite yarns, Rowan's best selling Kidsilk Haze, along with beads – exploring texture, subtle colour-ways and elegant knits.
When asked about her design process she said
"I am a very literal designer. When I see pleasing images, especially shapes, my mind instantly begins to try and recreate something of that imagery, in a knitted design. Once I know what I want to knit, I work backwards and layer the design elements into it. My focus tends to be on detailed features, such as a tailored cuff or a decorative texture, which I hope add elegance and a sense of the 'whole', as well as being really pleasing to knit.
Because I break my design process down into these layers, often the overall impression may be of an intricate, even difficult knit; but in fact, if I have a trade-mark I think it would be that each element of my designs is not very difficult to knit, but added together, they look as if they were. One of my aims is to make you, the knitter, feel amazing. 
I also like fairly small or medium-sized projects, because I am a big fan of completing my knitting within a reasonable timescale, or at least within my tolerance for boredom, which is fairly generous – but not boundless."
Alison lives and works in Somerset where she draws inspiration from the local landscapes, saying "this large and beautiful county is full of vivid contrasts and atmospheric landscapes".
We are featuring several new workshops from Alison in our Autumn Programme this year. More Moebius Designs is already fully booked, but here are two which you still have time to secure a place on!
Rise Scarf – Thursday 3rd November 2016 – £49 including home-cooked lunch and teatime treats.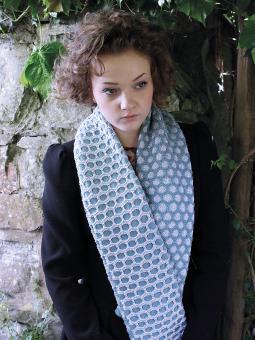 "Rise is a mirror image scarf – almost. On one side, the silver thread dominates, whilst on the other side, soft green woolen yarn eclipses the frost. Each year I am amazed by the sturdiness of snow-drops as they push through the crusted snow or frosted earth, granular from the repeated freeze and thaw. That is what I saw when I designed this scarf."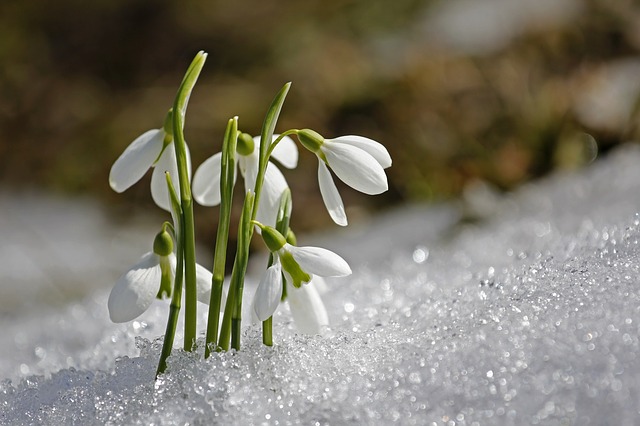 This slender tubular scarf is knitted in the round – on DPNs, by magic loop method, or on two short circulars – whichever method you are more comfortable with! You will need 2-3 balls of DK yarn, plus 1-2 balls of Kidsilk Haze, and 3.75mm plus 4mm needles suitable for knitting in the round – and one stitch marker. Don't forget you get a 10% discount voucher (15% off for Loyalty Card holders) on the day if you prefer to choose when you get here.
Owl Mitts – Friday 11th November 2016 – £49 including home-cooked lunch and teatime treats.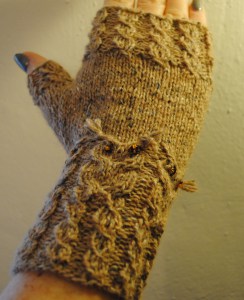 Who can resist these sweet tiny owls adorning the wrist of these cute mitts? They are quick, economical, and a great Christmas gift too, particularly for any bird-lovers or teens (owls are still very trendy!). The owls are formed using cable techniques – you'll be amazed to see them forming up before your eyes. The course is suitable for knitters who are reasonably experienced but if you cannot already knit in the round, Alison will teach you to do this on DPNs so please bring some.
You will need 2 balls of DK yarn with a high wool content, plus 3mm needles to knit in the round. Also 3 stitch markers, a cable needle, 20 beads (size 5 or 6), or 20 tiny buttons (we stock some!). If you are a very tight knitter please also consider bringing 3.25mm needles. Don't forget you get a 10% discount voucher (15% off for Loyalty Card holders) on the day if you prefer to choose when you get here.
To book just call 01626 836203 or email us with your contact details and which workshop you're interested in on customerservices@spinayarndevon.co.uk and we'll call you back. You can view all our workshops at https://www.spinayarndevon.co.uk/workshops/
We also sell Alison's latest and VERY gorgeous pattern book, Elements, in the shop. You can read more about it here.