We are often asked by visitors if we stock any local yarns, and whilst over the years we have had small batches of some, we are pleased to say we can now finally introduce a wonderful range to you.
John Arbon and his team run their spinning mill, Fibre Harvest, in South Molton, North Devon, where they cook up a spectacular range of yarns and fibres.
Grab a cup of tea, settle down and enjoy this wonderful video of their mill in action which says more than I possibly can about how skilled the process of creating these yarns is. I should add that the machine creating the skeins towards the end of the video is over 100 years old! It's quite mesmerising and of course just fantastic to see these skills being kept alive here in Devon.
From their selection of yarns, Trish has chosen Devonia 4-ply and DK for our shop.
Devonia is a beautiful blend of 3 local breeds – Exmoor Blueface, Devon Bluefaced Leicester and Devon Wensleydale. The Exmoor Blueface is our local sheep and brings its wonderful springy nature, the Bluefaced Leicester lends its outstandingly soft handle and lustre to the yarn, whilst the Wensleydale adds its qualities of a beautiful golden sheen and fineness of fibre.
The rich, warm shades are inspired by the work of renowned 19th century French tapestry artist Jean Lurcat. There are 14 in total and each is made up of up to 5 blended pre-dyed fibre tops to create a rich melange of colour in the spun yarn. We are currently stocking every shade here at Spin A Yarn so if you've got your eye on any in particular be sure to pop in and have a play! We think this yarn will be perfect for everything from delicate shawls to garments and of course, it is ideal for fairisle or other colourwork.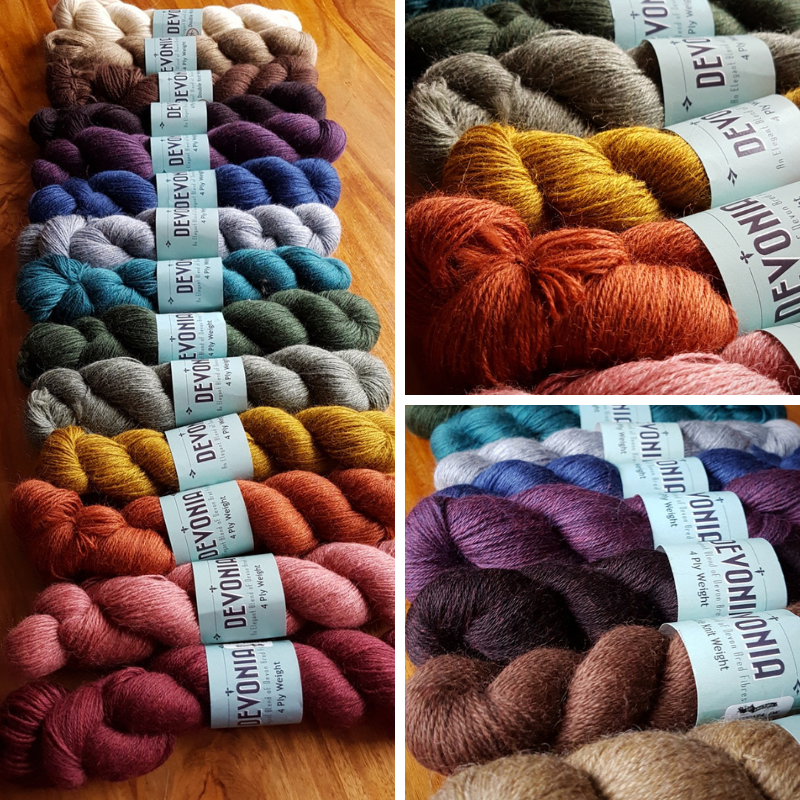 So, whether you're eager to support the British yarn industry and British sheep breeds, looking for a gift to show off what your county can do to friends overseas, visiting the county and looking for a souvenir, or just a yarn-lover looking to try something pretty special, come to our shop in Bovey Tracey and have a look!
The full range can be found here: